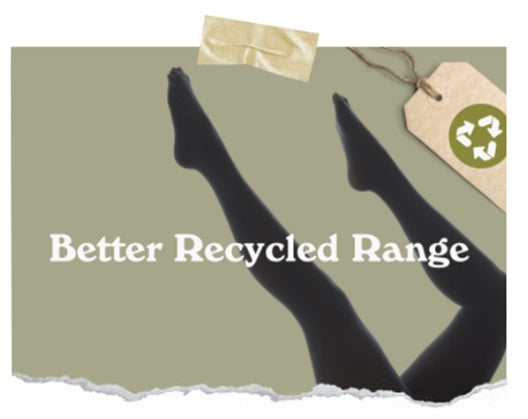 We have some BIG news coming your way!
As we strive to be, well, Better, in every way, we got our heads together and decided to launch a brand-new recycled tights collection that is now available to buy on our website!
It's no secret that since we launched, we've been on a mission to clean up the hosiery industry one pair of tights at a time. Already totally committed to being as sustainable as we can, it made sense that we took it one step further and created a recycled collection, made from recycled Nilit yarns. Still with the Better feel and quality we all know and love, but this time with a huge focus on minimal waste, energy reduction and a decrease in emissions! That's Better!
This new, greener collection will be exclusively available in both 50 and 80 denier, depending on your preference, and we have also given the option of both full and footless tights so there're plenty of different ways to style up your Better designs, whilst also doing your very own li'l bit for the planet, all for just £7.50!
Like all of Better's products, these tights are designed for the wearer to look and feel amazing – with a pair of recycled tights out there for every body.
Our recycled collection is proving that that green most definitely is the new black and with everyone needing at least one essential pair of black tights in their wardrobe, why not make a greener purchase? Our new recycled tights are still made using our signature 360 degree stretch technology so still fit like a glove and move with your body, just this time, they've been recycled first!
Get yours before they're gone!
For tips and inspo on how to style our brand-new recycled range, then simply follow us on Instagram!